Its a proud moment for India as it hosts the 6th World Bodybuilding and Physique Sports Championship 2014 (WBPF Championship 2014). This mega event will be organized and hosted by the Indian Body Builders Federation (IBBF) which is the only federation for body building in India which is also recognized by the Sports Authority of India (SAI) and the National Anti-Doping Agency (NADA). The event is scheduled on 5th to 10th December 2014 at Bombay Exhibition Center, Goregaon, Mumbai. Mr.Gajanan Kirtikar, Member of Parliament (Lok Sabha)-Leader of Shivsena is the Patron of this event.
More than 500 (both national and international) Bodybuilders are expected to take part in this championship. There will be a total of 35 categories for both men and women athletes. Out of which body building, model physique, athletic physique and sports physique will be the main categories.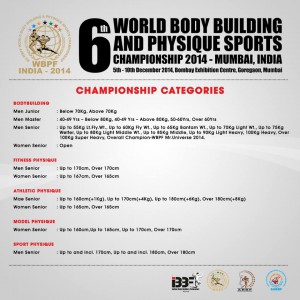 Selection of Indian Team for this event was organize by INDIAN BODY BUILDERS FEDERATION on 8th NOVEMBER 2014, VADODARA, GUJRAT. We wish all the participants in Indian Team all the best for this competition.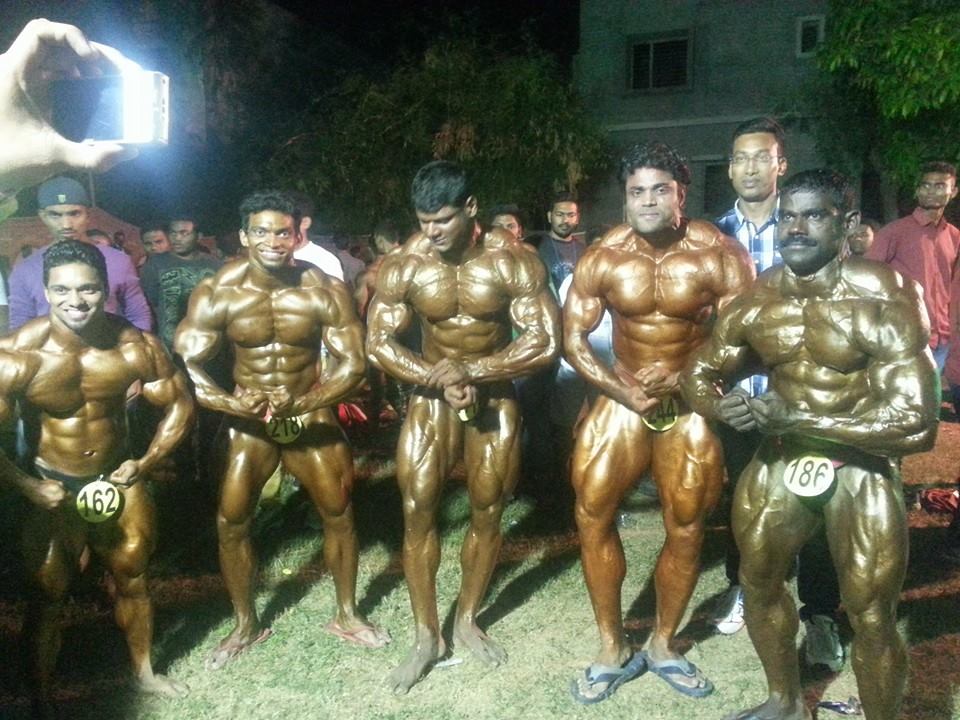 Tentative Daily Program
4th December, 2014: Thursday
Arrival of the Executive Committee members of WBPF .
From 12.00 PM : Check-in in the respective Hotels.
12.00 noon – 2.00 PM : Those that arrive early, will be provided lunch in the Hotel from 12.00
noon to 2.00 PM
8.00 PM – 10.00 PM : Dinner for all will be served at the Hotel.
5th December Friday
Arrival of all participating teams, officials together with WBPF Standing Sub-Committee members.
From 12.00 PM : Check-in in the respective Hotels.
12.00 noon – 2.00 PM : Those that arrive early, will be provided lunch in the Hotel from 12.00
noon to 2.00 PM
6.00 PM : WBPF Executive Council Meeting at the Hotel The Leela.
8.00 PM – 10.00 PM : Dinner for all will be served at their respective Hotels.
For athletes always special diet food will be served!
8.00 PM – 10.00 PM : Special Dinner only for the WBPF Executive members at Hotel The Leela.
6th December Saturday
7.00 AM – 9.00 AM : Breakfast for officials and athletes
9.00 AM – 10 AM : Team Managers Meeting at the Hotel The Leela.
10.00 AM – 11 AM : Judges Meeting at the Hotel The Leela.
11.30 AM – 2 PM : WBPF Annual Congress at the Hotel The Leela.
12.00 noon – 3.00 PM : Lunch for all officials and athletes at their respective Hotels.
4.00 PM : Weigh In of all Body Weight Categories and Height Measurements and
Checking of Age Groups at the Hotel Grand Sarovar Premiere.
6.00 PM – 9.00 PM : Dinner for officials and athletes at their respective Hotels.
7TH DECEMBER SUNDAY
6:00 AM – 9.00 AM : Breakfast for officials and athletes
8.00 AM : Buses will depart from their respective Hotels to the championship venue.
Lunch will be provided at the venue (packet lunch).
10.00 AM : OPENING CEREMONY and commencement of the Pre-judging and finals.
8.00 PM – 10.00 PM : Dinner for officials and athletes at their respective Hotels.
8TH DECEMBER (MONDAY)
6 .00 AM – 9 AM : Breakfast for officials and athletes
8.00 AM : Buses will depart from their respective Hotels to the championship venue.
Lunch will be provided at the venue (packet lunch).
10.00 AM : Pre-judging and finals.
8.00 PM – 10.00 PM : Dinner for officials and athletes at their respective Hotels.
9TH NOVEMBER (TUESDAY)
6.00 AM – 9 AM : Breakfast for officials and athletes
8.00 AM : Buses will depart from their respective Hotels to the championship venue.
Lunch will be provided at the venue (packet lunch).
10.00 AM : Pre-judging.
05.00 PM : Closing Ceremony & Final Prize Distribution
9.00 PM : Farewell Party for all the Athletes, Officials, Delegate & Supporters.
10TH DECEMBER (WEDNESDAY)
7.00 – 10.00 AM : Breakfast for officials and athletes
5Dec
- 10
2014
6th World Bodybuilding And Physique Sports Championship 2014
Event Summary
Its a proud moment for India as it hosts the 6th World Bodybuilding and Physique Sports Championship 2014 (WBPF Championship 2014). This mega event will be organized and hosted by the Indian Body Builders Federation (IBBF) which is the only federation for body building in India which is also recognized by the Sports Authority of …