Date of Birth:

May 22, 1878

Facebook :

Twitter :

Google+ :

You Tube :
The Great Gama
It is quite a strongly prevailing thought that India has never been a nation home to athletic prowess. We say very convincingly that India has now stepped onto the path of athletic glory. However, this is far from being true. When the world looked down upon India as an enslaved nation, there was a man, a gifted wrestler, who showed the world that India is far from being weak. This man single handedly brought down the western dominance in the field of professional wrestling and stayed on the forefront undisputed throughout the 50 years of his powerful career. We are today, talking about a legend that has sadly been forgotten by most of us. Today, we want to salute the undying spirit of The Great Gama – The Greatest Wrestler to ever have walked on this planet!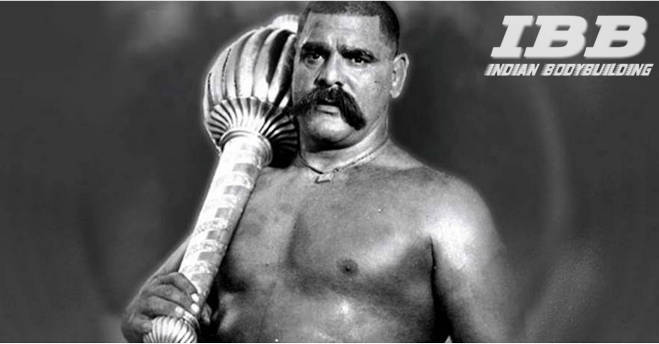 The Birth and the Beginning:
Ghulam Mohammad or the Gama Pehelwan was born on 22
nd
May 1878 in Amritsar Punjab. His father, Mohammad Aziz Baksh was also a wrestler. Ghulam had developed an immense passion and ferocious skills for wrestling since his childhood days and the credit for this goes to the Maharaja of Datia (a city in Madhya Pradesh). Ghulam had lost his father at a very early age. After his demise, the Maharaja of Datia had taken responsibility for training Ghulam. This Datia family had a significant reputation as a wrestling family that boasted of world-class wrestlers throughout its lineage.
Ghulam competed in a wrestling tournament for the first time when he was only 10 years old! Yes, you heard us right; he was still a boy, when he stepped into the 'Akhada' to face the mighty men of India. If you are thinking that this was a local district event then you are wrong. This was the Strongmen Competition held in Jodhpur and was overlooked by the then Maharaja of Jodhpur. All the leading faces of the Indian wrestling were present at this event. The competition saw an impressive 400 competitors who had come to claim the title and one of them was our young boy, Ghulam or Gama. At a tender age of 10 years, Ghulam managed to reach the top 15 out of 400. The Maharaja of Jodhpur got immensely impressed with his inexhaustible stamina and unbeatable spirit and declared Ghulam as the winner of the competition. This marked the beginning of a journey that was going to transform Ghulam Mohammad into the Great Gama.
Routine:
Gama had a very nutritious diet. He used to have 7.5 liters of milk each day. He used to have lots of fruits, and a pound and a half of crushed almond blended with fruit juices to drink. He focused on having a strong digestion and metabolism.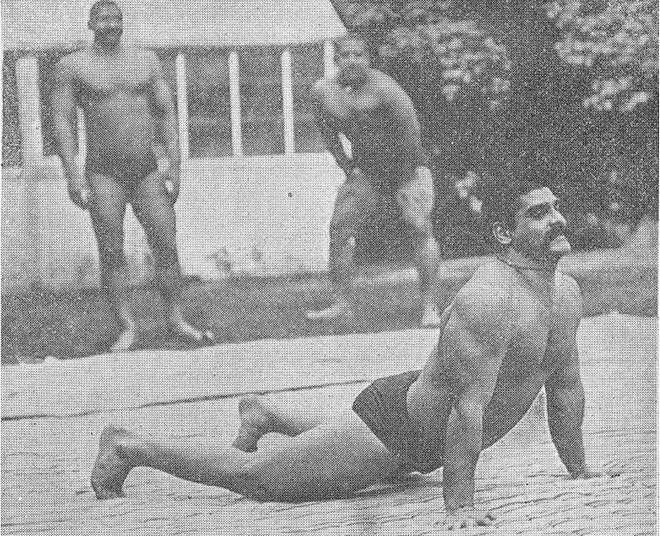 His workout included grappling with 40 of his fellow wrestlers every day. This was followed by 5000 Hindu Squats or Baithaks and 3000 Hindu Push-ups or Dands. Even today, the National Institute of Sports Museum in Patiala, displays the 95 kg disc that Gama worked out with.
The Baroda Museum in Sayajibaug displays a 2.5 feet cubical stone that weight 1200 kg. On 23 Dec 1902, Gama had lifted this 1200 kg stone on his chest and had left everyone in awe. Such was the power of the Gama Pehelwan.
Fight and Fame: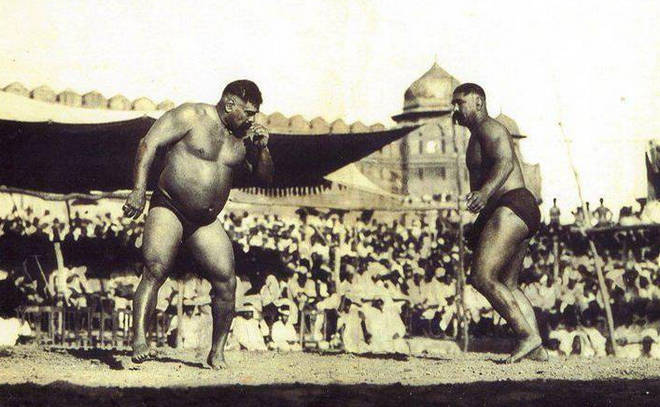 Ghulam has tasted the thrill of being in the ring and defeating his opponents and he decided to explore more of this world. He kept on participating in the local and national events that earned him quite a reputation as a wrestler. However, fame came to him in the year 1895 when he faced the then Indian Wrestling Giant – Raheem Baksh Sultaniwala.
Raheem was the most feared wrestler at that time in India. He was given the title of Rustam-e-Hind. Ghulam was only 17 years old when he faced Raheem for the first time.  Raheem was a powerful wrestler with a height of 6 feet 9 inches while Ghulam had a short stature of only 5 feet and 7 inches. Hence, everyone thought that Raheem would get an easy win however, what happened surprised everyone.
While height was a clear disadvantage, Ghulam had an advantage of age. He was only 17 while Raheem was in his mid thirties i.e. towards the end of his wrestling career. The match continued for hours and ended in a draw. This immediately brought Ghulam to the limelight and everyone started looking at him as the future of Indian wrestling.
This event boosted Ghulam's confidence too and he went ahead and started facing the biggies of Indian wrestling.  In the next few years, he had faced almost all the ace wrestlers and had defeated them all.
| | | | |
| --- | --- | --- | --- |
| Year | Opponent | City | Result |
| 1898 | Ghulam Mohiuddin | Datia | Won |
| 1902 | Pratab Singh | Bhopal | Won |
| 1904 | Ali Baba Sain | Indore | Won |
| 1907 | Hasan Baksh | Multan | Won |
| 1910 | Raheem Baksh Sultaniwala | – | Draw |
Rahim Sultaniwala was the only wrestler who had yet to taste defeat at the hands of Ghulam. However, at this time, Ghulam wanted to focus on International Wrestling. India had amazing wrestlers but sadly they did not have exposure to the western world. So far, the only Indian to have made it to the International World of Wrestling was Karim Baksh. In the year 1892, Karim had defeated Tom Canon, a champion from England when he came on a tour to India. Karim was only 21 years old at that time. This gave the world a glimpse of what Indian wrestlers were capable of. It was only in 1910 that the world finally saw the true power of Indian wrestlers.
World Champion: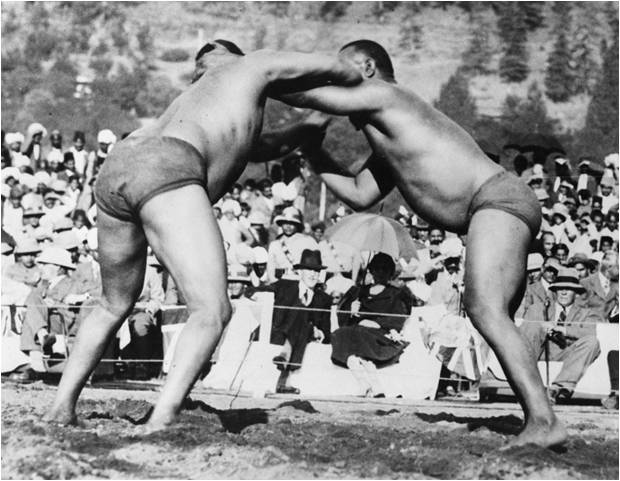 In 1910, Ghulam flew to England with his brother Imam Baksh who was also a wrestler to compete with the international champions. However, the authorities there did not open the gates for him easily. Ghulam's wrestling prowess was not taken seriously owing to his small stature of only 5 feet and 7 inches. Ghulam gave an open challenge stating that he could defeat any wrestler from any class in just 30 minutes however; his challenge was taken for a mere bluff. He then, targeted the heavy weight champions saying that he would either beat them or pay them the prize money and leave.
His challenge was taken head on first by the American Champion Benjamin Roller. Gama stepped into the ring for his duel and he had pinned Benjamin for the first time in just 1 minutes and 40 seconds. He pinned him again in 9 minutes and 10 seconds and thus, emerged victorious.
Now, wrestlers had started taking him seriously. His next opponent was Stanislaus Zbyszko, a Polish Champion. The match took place on 10th September 1910 and the winner of the match was to get £250 as prize money and the John Bull Belt which was equivalent to World Champion. The match began and in just a minute Zbyszko was down on the floor. He realized that Gama was way too powerful than him and so using a cowardly defensive technique, Zbyszko stayed in 'hugging the mat' position for the next 2 hours and 35 minutes so that Gama could not pin him down. Finally the match ended in a draw. While the spectators were in an awe of Gama, they had started criticizing Zbyszko for his cowardly tactic. A rematch was scheduled between the two, on 19th September. However, Zbyszko did not appear for the duel and so Gama was declared the winner. Thus, he returned to India with the title of Rustam-e-Zamana.
Return to India
Gama came to India and shortly in 1911; he faced his long dreaded opponent Rahim Sultaniwala. Finally after a long wait, Gama managed to defeat Raheem and became Rustam-e-Hind or Champion of India. Gama always remembered Raheem as his Strongest Opponent in the World.
In 1916, he defeated another Indian wrestling legend Pandit Biddu.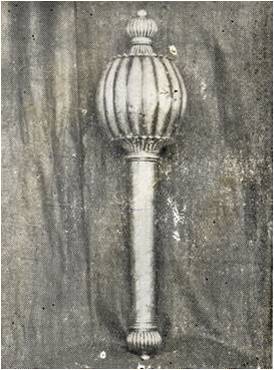 In 1922, when the Prince of Wales came to India, he presented Gama with a Silver Mace. It has been reported that with that Silver Mace in hand, Gama used to look like the legendary Pandava, Bhim.
Undisputed Champion:
Gama had gained a reputation to such an extent that until 1927 he did not have any opponent. Wrestlers feared facing him and those who faced did not last long. In 1927, a match was organized between Gama and Zbyszko that took place in Patiala. Gama yet again emerged victorious in just 42 seconds. Then in 1929, he wrestled against Jesse Petersen and this match lasted only about one and a half minute. Any guesses who won? Yes, Gama again!
Retirement:
Gama, was open to challenges until the 1940's however, Gama kept a condition this time. He said that whoever wished to wrestle with him will have to beat Imam – his brother. Imam, just like his brother was a feared wrestler and no one ever escaped his grappling to reach Gama.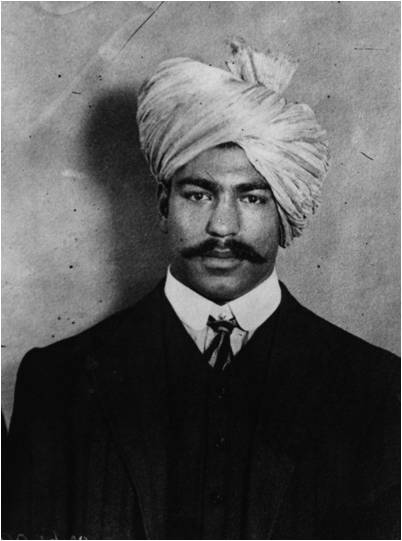 Some experts say that Imam was capable of surpassing even his brother Gama. He was skilled and intelligent and with a height of 6'3, he also had the advantage of an extended reach. Gama handed over his title of Rustam-e-Hind to his brother in 1918 when he defeated Raheem in just 20 minutes.
With no opponents to challenge him, Gama took retirement from the sport in 1955. He remained undefeated and feared throughout his career of 50 years.
End of Journey: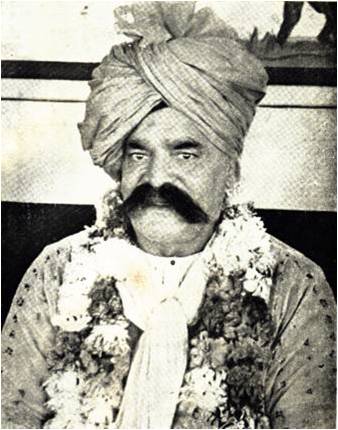 Sadly in 1947, Ghulam had to move to Pakistan due to India-Pakistan partition. He left in Pakistan the rest of his life training his nephews. Ghulam gradually fell sick and started having heart and asthmatic problems. The man who brought glory to the nation did not have enough finances to handle his medical expenses. An industrialist from India, G. D. Birla, who was also a wrestling fan, donated Rs 2000 to Gama and gave him a monthly pension of Rs 300. Seeing this, even the Government of Pakistan increased his pension and supported him in his medical expenses for as long as he lived. Finally, on 23 May 1960, The Great Gama took his last breath.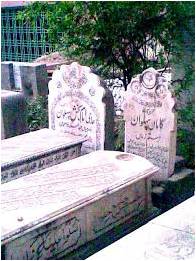 It saddens our hearts to see that such a gifted wrestler had to leave such days and die such an undeserving death. Ghulam, The great Gama, gave us a life to seek inspiration from. Even Bruce Lee took inspiration from Gama's routine. Although, Indian Wrestling History had eroded over time and the legends have faded away, Gama is one name that will live forever.
Achievement of Ghulam Mohammad