Facebook : https://www.facebook.com/sangramchougule01

Twitter :

Google+ :

You Tube : https://www.youtube.com/channel/UCfAz3AA3Y2KWdU5h6ThrUnA
Sangram Chougule is an Indian Bodybuilder from Chinchwad, Pune, who has won the title of Mr. Universe in the year 2012 in the 85 Kgs category for bodybuilding championship in Bangkok, Thailand. Sangram has also won the Mr. India title six times and Mr. Maharashtra five times.
Background
Sangram Choughule is a 32 year old, electrical engineer by profession and a father of a 5 year old. He hails from a small village in Kolhapur, Maharashtra.
Sangram Chougule's Diet
 As a part of his daily diet, Sangram ensures an optimum intake of protein with less carbs and less fat.
1 kilogram of grilled fish
Half chicken
Milk
Boiled Vegetables (since for his  fitness, he was advised to consume less salt, sugar and oil)
He begins his day with a cardio routine post which he consumes a combat protein drink with multivitamins and carbs. After 2 hours he takes oats and egg whites.Before Sangram begins his workout, he takes a pre-workout drink and focuses on training 2 muscles in a day. As he finishes his workout he takes his protein shake and post workout drink. After 2 hours he eats chicken with brown rice and some salad.As a part of his mid-day meal, he takes protein shake and fruit with vitamins. In the evening, he eats grilled fish and brown rice with some salad. Dinner again consists of grilled fish and salad.Two hours after dinner, he drinks Whey Protein Isolate and casein after a gap of 20 mins. His last meal is a sleep recovery drink.
Sangram Chougule's Workout routine
Sangram believes in the contribution of diet is 80% whereas of workout is 20% in building a great body. He says its wrong to skip meals and then do numerous crunches because that would result in only muscle loss. Abs are made in the kitchen, all you need to do is control your calorie intake and take a well balanced diet with a proper workout routine.
Sangram Chougule's  pre-contest workout and diet
Before contest Sangram begins with an increase in cardio and reps.He switches to a diet with high protein content that includes more fiber like green salad with less salt and sugar.
One of the recent achievement of sangram chougule was winning gold medal at the 6th World Bodybuilding and Physique Sports Championship 2014. It was a great moment as Sangram made all his fans proud. This is what he had to say after the victory:

It feels great to represent your country and win in your homeland. Past two years have been hard for me and I was really looking forward for this competition. This award is dedicated to my wife and daughter who stood by me and supported me throughout. I would also like to thank Indian Body Building Federation for their help and support
Sangram Chougule
Going ahead sangram chougule also won the prestigious Mr India 2015. He defeated Murali Kumar who came in second. Murali had been defeating Sangram at previous Mr India contests. However Sangram decided to take a break for 2 years and come back strong and hard. What a comeback he has made. He is now the undisputed champion bodybuilder of India.
Achievement of Sangram Chougule
Federation Cup 2011 Champion of Champion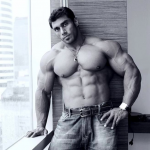 Check out the photos collection of one of the most popular and inspiring bodybuilders in India, Sangram Chougule. We have covered Sangram's Photos from competition posing, backstage photos and outdoor shoots. We suggest you join his facebook fan page as he posts regular photos and bodybuilding tips. Enojy! Read More »