Date of Birth:

February 10, 1985

Facebook : https://www.facebook.com/muralikumarofficial

Twitter :

Google+ :

You Tube :
Murali Kumar is a champion bodybuilder from Indian Navy. He was ranked number 1 in 2013 Top 10 Indian Bodybuilder Ranking.
Murali Kumar is a software engineer by profession and currently serves in Indian Navy. He did not always wanted to grow up as a bodybuilder, In-fact its an very interesting story of how Murali Kumar got into the world of bodybuilding. During his profession, he was injured with a fracture in his legs. As part of the recovery process, doctor's advised Murali to take up some workout routines in gym to strengthen his leg muscles. This was the moment he was introduced to gym and started going regularly. Initially he only concentrated on his legs for his recovery therapy, but he gradually started to develop keen interest in bodybuilding. He has good body structure with wide shoulder's and is blessed with good genetics which helped him quickly show progress in his form. His coach and friends at gym were impressed by his physique and asked him to take up bodybuilding seriously. For Murali, there was no looking back from there on. He was highly inspired by International Bodybuilding legend,
Dorain Yates
who had won the prestigious Mr Olympia title for 6 consecutive times.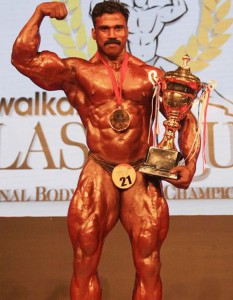 Well all this does not mean glory came so easily. Although Murali Kumar is a very popular bodybuilder and 2 times Mr India, he had to work really hard for this. He has shown great dedication towards bodybuilding and has been regularly following his gym routines.It took him 10 years to continuous effort to get to the point where he won Mr India title which he won on 25th March 2013 by defeating
Sangram Chougule
. This was the first biggest achievement of Murali Kumar in bodybuilding which changed his life. He had turned a national champion which brought him lots of
Murali kumar follows a strict routine, 10 PM to bed and waking up at 5 AM. He is also particular about his gyms schedule and always makes time for it from his day time job. He says that following your schedule is very important as bodybuilding is all about being consistent and dedication.
Diet Plan
Murali Kumar believes that diet is an very important part of bodybuilding. His diet includes at least 50 Egg whites and lots of green leafy vegetables. As per his diet plan, Murali takes a meal after every two and half hours. He also takes protein supplement shakes after his workout.
Achievement of Murali Kumar
Mr India 2014 - Overall Champion
Mr India 2013 - Overall Champion